Beginning of Grain Ripening(小滿)
The eighth of the twenty-four solar terms, Soman (Kor. 소만, Chin. 小滿, Beginning of Grain Ripening) is around May twenty-first on the Gregorian calendar and occurs during the fourth lunar month. The sun is positioned at 60 degrees on the ecliptic. Falling between Ipha (Kor. 입하, Chin. 立夏, Beginning of Summer) and Mangjong (Kor. 망종, Chin. 芒種, Bearded Grain, the barley harvest season), Soman marks a period during which the increasing sun hours promote the growth of all living things and fill the earth with vitality.
An alternative name for this period is Maengha (Kor. 맹하, Chin. 孟夏). It means "early summer" since, by this time, summer is always in full swing. Farming households become busy with transplanting rice seedlings from the seedbeds to the paddies. Top farming priorities include rice planting, cutting fall barley stalks, and weeding dry fields.
In the Chinese calendar, the fifteen-day period between Soman and Mangjong was divided into three five-day periods. The first five-day period was referred to as the time when young lettuce leaves begin to grow vigorously; the second five-day period was known as the time when pepperweed withered; and the last five days were regarded as the time when barley ripens. In Korea, one of the most popular seasonal delicacies corresponding to the first five-day period is fresh bamboo shoots eaten with chili paste and other spices. Soup with pepperweed is also frequently consumed in late spring and early summer. Barley, which starts ripening during the last five-day period, is a summer staple for farming households along with wheat.
Breezes around Soman, however, can be unexpectedly cool or frigid, as reflected in the Korean proverb, "A man old beyond his age dies frozen at Soman winds."
Beginning of Grain Ripening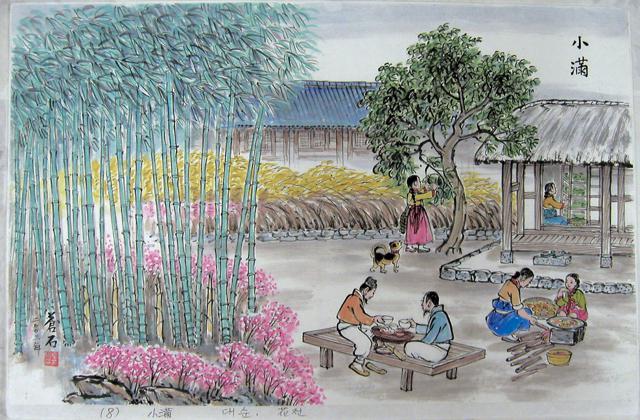 The eighth of the twenty-four solar terms, Soman (Kor. 소만, Chin. 小滿, Beginning of Grain Ripening) is around May twenty-first on the Gregorian calendar and occurs during the fourth lunar month. The sun is positioned at 60 degrees on the ecliptic. Falling between Ipha (Kor. 입하, Chin. 立夏, Beginning of Summer) and Mangjong (Kor. 망종, Chin. 芒種, Bearded Grain, the barley harvest season), Soman marks a period during which the increasing sun hours promote the growth of all living things and fill the earth with vitality. An alternative name for this period is Maengha (Kor. 맹하, Chin. 孟夏). It means "early summer" since, by this time, summer is always in full swing. Farming households become busy with transplanting rice seedlings from the seedbeds to the paddies. Top farming priorities include rice planting, cutting fall barley stalks, and weeding dry fields. In the Chinese calendar, the fifteen-day period between Soman and Mangjong was divided into three five-day periods. The first five-day period was referred to as the time when young lettuce leaves begin to grow vigorously; the second five-day period was known as the time when pepperweed withered; and the last five days were regarded as the time when barley ripens. In Korea, one of the most popular seasonal delicacies corresponding to the first five-day period is fresh bamboo shoots eaten with chili paste and other spices. Soup with pepperweed is also frequently consumed in late spring and early summer. Barley, which starts ripening during the last five-day period, is a summer staple for farming households along with wheat. Breezes around Soman, however, can be unexpectedly cool or frigid, as reflected in the Korean proverb, "A man old beyond his age dies frozen at Soman winds."