Village Guardian Deity Tree(堂山树)
Dangsannamu is a deified tree worshipped as the guardian of a village.
The term can refer to both a tree that is believed to be divine and to the tutelary deity that is embodied as the tree. Dangsannamu sometimes stands on the grounds of a village shrine like dangsan or seonangdang, or sometimes serves as a shrine in itself. Furthermore, it is often upheld as the center of communal worship, the central axis of the village–the divine tree (sinmok) of the community. Dangsan, or village deity shrine, is perceived as a sacred space, a medium between the heavenly and earthly worlds, an altar where rituals are held upon receipt of the gods' messages. And dangsannamu is at the center of this space.
[Dangun](/topic/Dangun, FounderofGojoseon) mythology features sindansu, or divine altar tree, which serves as dangsannamu. Hwanung, father of Dangun, who would go on to found the ancient kingdom of Gojoseon (2333-108 B.C.E.), descends from the heavens, landing under sindansu, which in effect is a cosmic tree, or a world tree, connecting the heavens with earth. It stands tall on a high perch, in the middle of an altar where rituals are held to greet the god of heaven. It is a vertical axis, a pole that connects the heavenly world with the earthly; it also serves as a column placed in the center of the four directions, front and back and left and right. This is where we can find evidence for referring to dangsannamu as the cosmic tree, the cosmic axis. Another widely recognized example of dangsannamu is the tree of Sodo, a sacred district in the ancient Korean state Mahan, as described in the following passage from the "Account of the Eastern Barbarians" chapter of the volume History of the Wei Dynasty of the Chinese history book Sanguozhi (Records of the Three Kingdoms): "A tall tree was erected, then worshipped as a spirit by hanging a rattle and a drum."
Village Guardian Deity Tree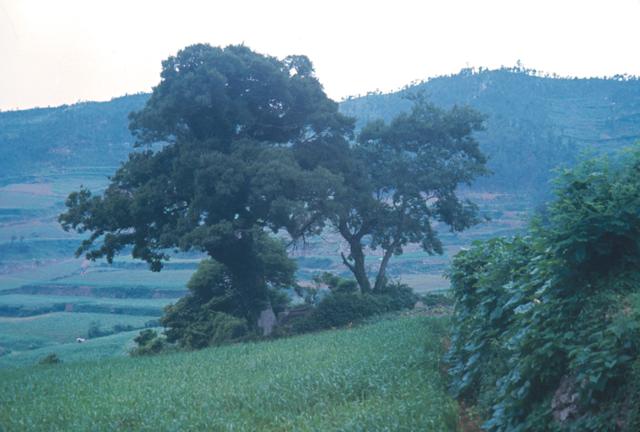 Dangsannamu is a deified tree worshipped as the guardian of a village. The term can refer to both a tree that is believed to be divine and to the tutelary deity that is embodied as the tree. Dangsannamu sometimes stands on the grounds of a village shrine like dangsan or seonangdang, or sometimes serves as a shrine in itself. Furthermore, it is often upheld as the center of communal worship, the central axis of the village–the divine tree (sinmok) of the community. Dangsan, or village deity shrine, is perceived as a sacred space, a medium between the heavenly and earthly worlds, an altar where rituals are held upon receipt of the gods' messages. And dangsannamu is at the center of this space. [Dangun](/topic/Dangun, FounderofGojoseon) mythology features sindansu, or divine altar tree, which serves as dangsannamu. Hwanung, father of Dangun, who would go on to found the ancient kingdom of Gojoseon (2333-108 B.C.E.), descends from the heavens, landing under sindansu, which in effect is a cosmic tree, or a world tree, connecting the heavens with earth. It stands tall on a high perch, in the middle of an altar where rituals are held to greet the god of heaven. It is a vertical axis, a pole that connects the heavenly world with the earthly; it also serves as a column placed in the center of the four directions, front and back and left and right. This is where we can find evidence for referring to dangsannamu as the cosmic tree, the cosmic axis. Another widely recognized example of dangsannamu is the tree of Sodo, a sacred district in the ancient Korean state Mahan, as described in the following passage from the "Account of the Eastern Barbarians" chapter of the volume History of the Wei Dynasty of the Chinese history book Sanguozhi (Records of the Three Kingdoms): "A tall tree was erected, then worshipped as a spirit by hanging a rattle and a drum."